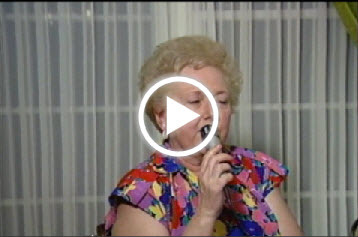 Dublin Core
Title
Medical Supplies to Poland - Maria Krakowski Interview
Description
Maria Krakowski, former President and chair of the Medical Supplies to Poland committee, discusses why the donations are important and shows the supplies included in a typical package.
Source
Legion of Young Polish Women Records
Moving Image Item Type Metadata
Transcription
"There is such a need for these syringes in Poland. On my last visit, I had gone to the, to the Oszorik Dzovia and I had talked to some of the doctors and they told me what their needs were and I tried to get that in their, in the packages. The syringes that we are sending to Poland are the 3 CCs, the disposable ones, and I also am sending the 10 CCs, but the glass ones, which can be used several times. And they can be used for drawing out blood or for anything that they need. For injections and so forth. When I was in Poland they had asked for cotton balls, they asked for gauze, they asked for band aids, which we are sending. This is what a package looks like. And there about usually from five- to eight-hundred of the syringes and about 900 needles that we sent and then I try to fill it in with the other things like cotton balls and so forth. We started, just now, with the other things. But I think those are wonderful things and I think we are making a lot of people happy."