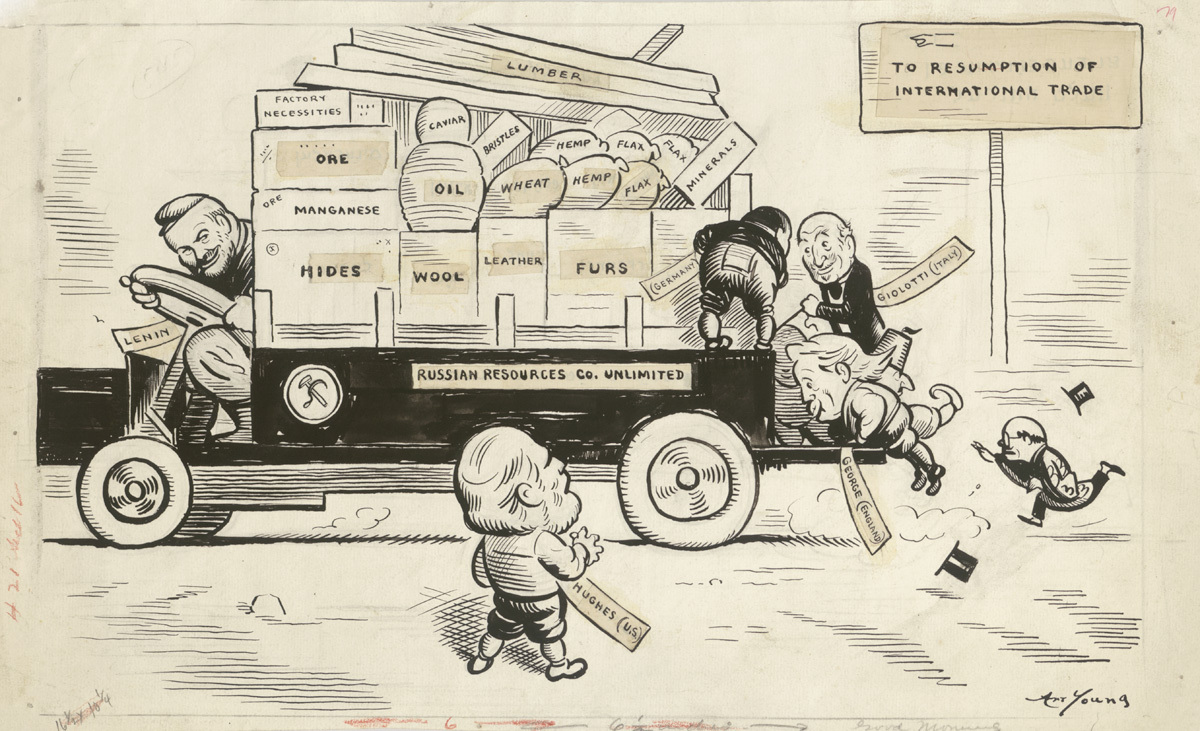 Dublin Core
Title
Better Jump on Charlie
Subject
International trade
Description
Published in Der Groyser Kundes (New York), April 1, 1921, and Good Morning (New York), April 15, 1921. Ink Drawing with English text on linen covering Yiddish. This is the original drawing of one of the cartoons features in "Art Young's Cartoon Mat Service." This cartoon, captioned "Uncle Nick Lenin: 'Hurry Up, Charlie, If You Want a Ride'" in the printed version, depicts the leaders of Germany, Italy, and England jumping on a truck of Russian resources driven by Soviet leader Vladimir Lenin while U.S. Secretary of State Charles Evans Hughes watches, uncertain. At this time, Lenin was instituting the "New Economic Policy" in the Soviet Union and the Soviet Union was reentering international stage; the Anglo-Soviet Trade Agreement had been signed by the United Kingdom and the Soviet Union on March 16, 1921. In addition to trade issues, the parties agreed to refrain from hostile actions or propaganda against one another's interests and institutions. Here, Young advocates for the U.S. to resume international trade with the Soviet Union with as much enthusiasm as it seemed Britain and the rest of Europe were showing.
Creator
Young, Art, 1866-1943
Source
From the collection of Anthony J. Mourek
Publisher
Loyola University Chicago Archives & Special Collections
Still Image Item Type Metadata
Original Format
Political cartoon
Physical Dimensions
18 x 11 in.