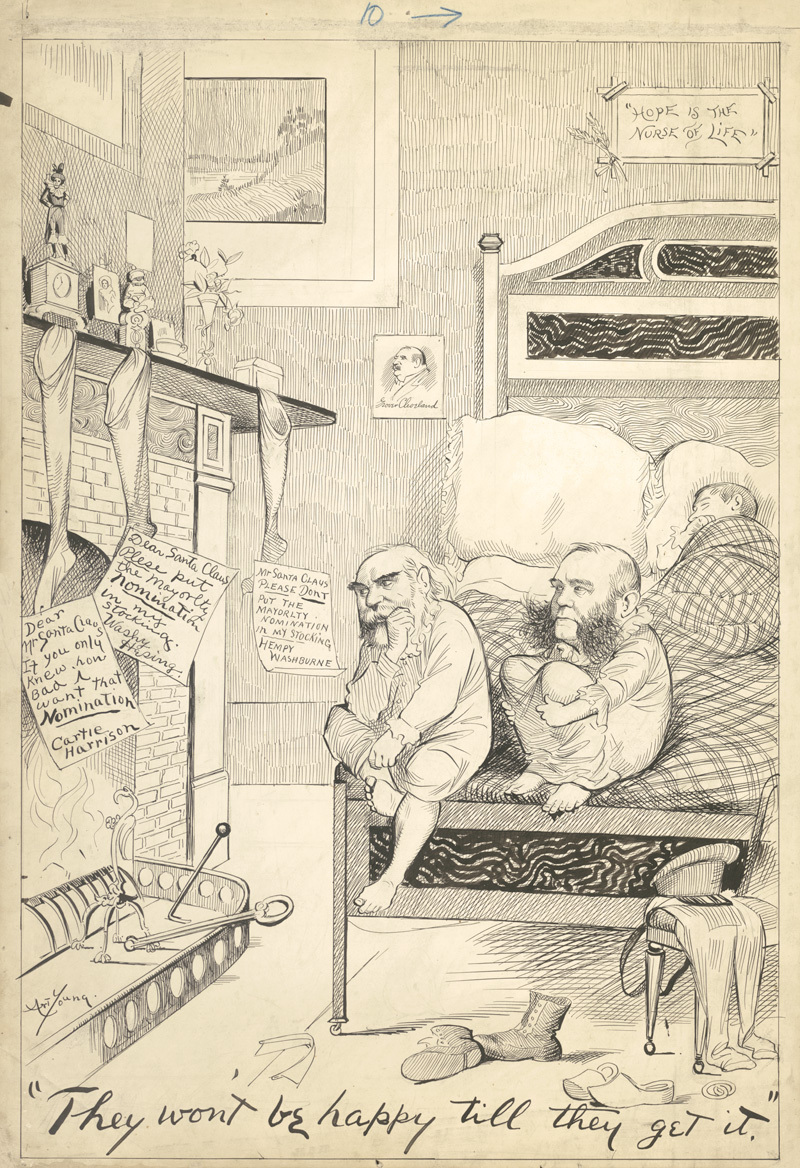 Dublin Core
Title
They Won't Be Happy Till They Get It
Subject
Elections--Illinois--Chicago
Mayors--Illinois--Chicago
Description
Ink drawing. Here, Young makes use of themes that had been popularized by the cartoonist Thomas Nast, whose Christmas illustrations of Santa Claus and children had become iconic images of the holiday. In Young's drawing, the children with stockings hung by the fire are hardened Chicago politicians seeking the mayoralty while the city prepared for the World's Columbian Exposition. Sleeping in the bed is the incumbent mayor, Republican Hempstead Washburne. Washburne had attended the October 21, 1892 dedication of The World's Columbian Exposition, but after nearly three years of preparation, the fair grounds were not completed and the fair was not going to open in 1892. Believing he would not be reelected, Mayor Washburne chose not to seek another term in 1893, and the Republican nomination instead went to Samuel Allerton. Sitting on the bed expectantly are two politicians vying for the Democratic nomination: former mayor Carter Harrison, Sr. and the owner of the German-language newspaper Illinois Staats-Zeitung Washington Hesing. Harrison would receive the nomination, become mayor in April 1893, and open the Columbian Exposition on May 1, 1893.
Creator
Young, Art, 1866-1943
Source
From the collection of Anthony J. Mourek
Publisher
Loyola University Chicago Archives & Special Collections
Still Image Item Type Metadata
Original Format
Political cartoon
Physical Dimensions
16 x 23 in.